Description
Features: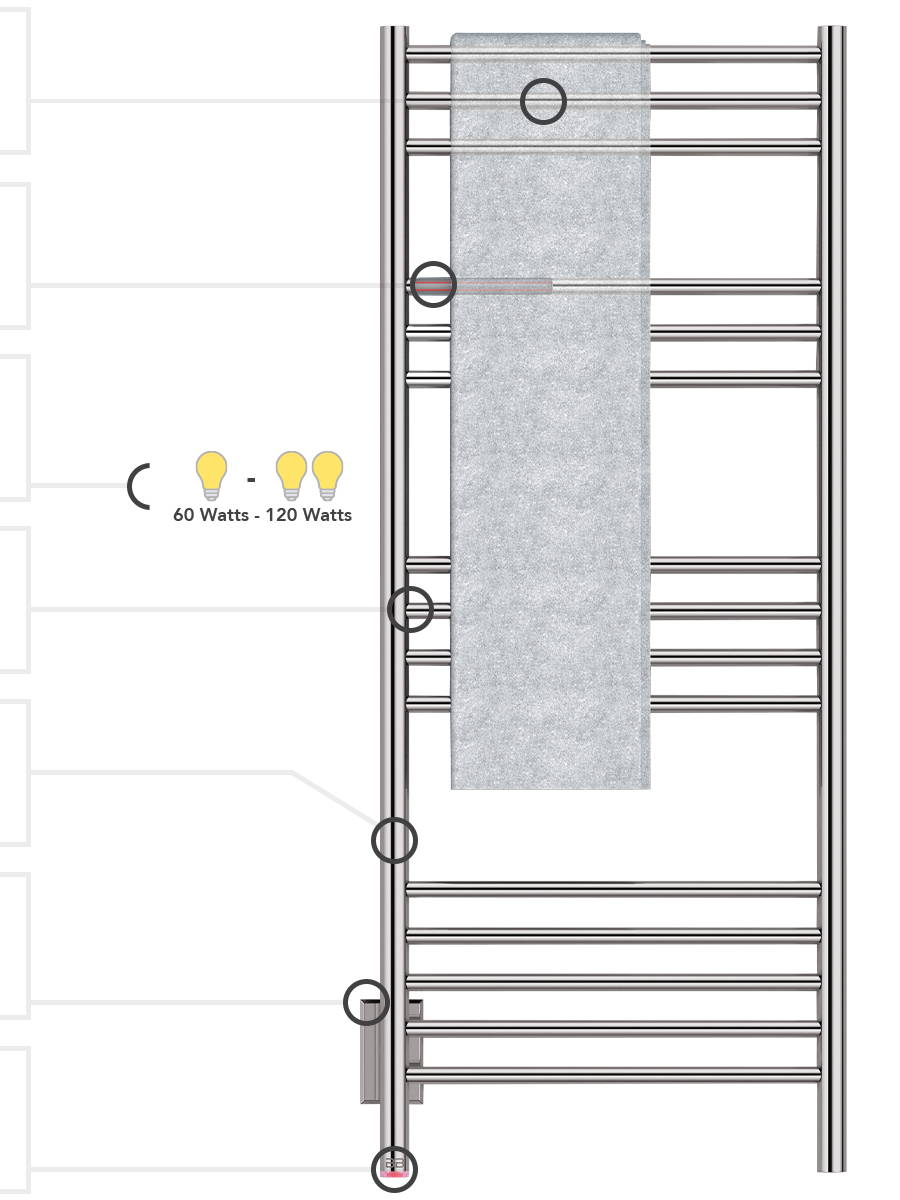 Direct Intelligent Heating
Providing heat directly where it is needed most.
Advanced Dry Element Technology
Provides benefit of Rapid Heating, 10-15mins.
Uses less electricity than you would imagine, average-size heated towel rack uses the equivalent of one or two light bulbs.
There is no welding on the clean join lines which elevates the product finish and means that our heated towel racks are fully serviceable.
Grade 304 Stainless Steel
Has inherent corrosion resistance properties that prevent rusting, peeling, chipping, flaking and staining – ideal for  the bathroom environment.
Dual Entry Electrical Connection
Installation is easier with both left and right electrical connections as standard.
Our discretely built-in controllers allow for temperature adjustment, on/off programming and electricity savings.
We are all different, so we have designed three different control options for you to choose from.
With the Personal Temperature Selection Switch, you can adjust the temperature and switch ON and OFF reducing running costs by up to 60%.
The built-in Total Digital Control Timer can be programmed to switch ON and OFF automatically as needed reducing running costs by up to 75%.
With the addition of the Wemo Wi-Fi Switch you can control your heated towel rack remotely through the free app on your mobile device.
Built-in Controller: 
The discretely built-in PTSelect (Personal Temperature Selection) Switch will enable you to switch the heated towel rail on and off as well as adjust the temperature of the heated towel warmer to suit your personal heat preference.
Electrical Wiring:
This electric towel rail is hardwired (electrical connection must be completed by an electrician). This product has a Dual-Entry electrical connection which means it can be connected to either the left or right electrical point straight out the box.
Heating Element Size: 60 Watts
Input Voltage: 120 VAC
Current: 0.50 Amps